Blog about St. Anton
8 Tips how you can strengthen your immune system and prevent colds
In the course of their life, everyone suffers from colds 120 to 200 times. Given an average duration of five to six days, this makes two to three years of our lives that we are afflicted by sore throats and runny noses. However, you should remind yourself that with some caution and care you can reduce the risk significantly. 8 tips how you can boost your immune system and avoid traps for catching a cold.
The average person's daily habits lack natural weather stimuli such as wind, cold or heat. Therefore you should not shy away from being active outside, even in unfriendly weather – of course always wearing suitable clothes. Additionally, "therapies" such as sauna or cold showers in the morning help to keep your body's defences awake.
1. Warm and waterproof clothes are a must during outdoor activities.
2. Go out in the fresh air. It strengthens your immune system and can even help against a full-blown flu.
3. Mind the right temperature and humidity in rooms inside. In a living room or office, the temperature should be around 22 °C, in bedrooms around 18 °C. Heated air has a lower relative air humidity than colder air, which is why overheated rooms seem to be dryer. Here, air humidity can sink under 30%, ideally it should be 50%. Only then can the mucous membrane of the nose keep up its moisture which wards off viruses.
4. Relaxation and stress reduction: Regular meals, enough sleep, positive thinking and the avoidance of stress and burdens are important for the body's own defences.
5. Regular visits to the sauna, kneipp treatments and cold showers in the morning (ending with cold stimulus) train the vessels and the cardiovascular system as well as the ability to adjust to high differences in temperature. Moreover, the body releases endorphins as a consequence to the heat stress that raise your mood.
6. Cardiovascular training at least two times a week for half an hour. Good are sports like walking, jogging or cross-country skiing, but also skiing is beneficial. In the cold winter air the body learns how to adjust his temperature.
7. Enough sleep. If you sleep too little you deprive your body of the possibility to regenerate properly.
8. It goes without saying that good nutrition is crucial for a strong immune system. Many minerals and much fibre, trace elements (selenium, zinc) and vitamins (A, B, C and E) should be eaten even more during the cold season.
Many of the factors that are important for a strong immune system are present in the Schlosshotel Bergschlössl. Exercise in the fresh winter air, relaxation in the cultivated wellness area, a stress-free atmosphere and healthy sleep in the comfy rooms – in the charming Schlosshotel right in the centre of St. Anton am Arlberg you experience a piece of luxury in the Austrian Alps.
Weiterlesen...
---
"Boutique Hotel" & "Hideaway": A Definition
Your Bergschlössl in St. Anton am Arlberg stands out as a secret from the mainstream – a Hideaway in the Tyrolean Alps. But what exactly is a "Hideaway" and what do we mean by the term "Boutique Hotel"? These and more questions will be answered in the following article.
What can be expected from a "Boutique Hotel"?
The term "Boutique Hotels" is mostly used to name personally led and individual, mostly small and luxurious hotels which offer high quality to their guests. The term itself derives from the marketing language.
A word in change of meaning
The origin of the word leads back to the French term "Boutique", where it means "small business" or general store". If we dig deeper in language history, the word can also be traced back to the Occitan "botica" (shop) and the Greek "apothéke" (storeroom). Also the Spanish and Portuguese language offer the same word root, similar to the Italian "bo(t)tega" as well as "botica".
The term "Boutique" subsequently underwent a semantic shift by establishing itself in the meaning as "Fashion Boutique" – the emphasis was still on "small", but now the exclusivity and individuality of the stores was stressed and reinforced.
The first Boutique Hotels
The first Boutique Hotels emerged in the 80s in world cities such as New York, Los Angeles or London. Today the trend of this special kind of holiday feeling is also widely spread in Europe and Asia. Especially at the beginning those kinds of hotels were known for having their interior made from top designers.
Since Switzerland introduced the categorization system of stars, the term "Boutique Hotel" became stronger again in opposition to big Art and Design Hotels, but measured in terms of individuality: These "oases of peace" emphasize their "uniqueness", "individuality" and their "charm" and score with qualities such as personal leadership and unique equipment – mostly influenced by an individual handwriting. Those "Boutique Hotels" are often located in special, often historical building structures and devote themselves to a specific theme or style.
Your Boutique Hotel in the Alps: The Bergschlössl
Most importantly, your hosts at Bergschlössl in St. Anton make sure that you receive only the best during your stay in Tyrol: The high end hotel offers you high quality products and services.
The unique location, directly at the ski resort St. Anton and the very special building structure of a small castle will turn your stay at the Boutique Hotel at the Arlberg into an unforgettable experience.
Your lodge in the mountains awaits you with modern comfort in historic walls, away from everyday life. Clear air, clean water, lots of snow and fantastic panoramic views surround your holiday experience in St. Anton am Arlberg perfectly.
What can be expected by a "Hideaway"?
A "hidden place" is also called a Hideaway. It is a place, where the world stands still, a retreat from the hustle and bustle of everyday life. Often idealized by lovers as a romantic idyll, Hideaways are ideally located in gloriously-quiet natural landscapes that add up to rest and reverie. Hideaways are preferably outside of cities and urban centres, or at least well separated from stressful modern civilisation.
Your Hideaway in the Alps
Your hosts at the Bergschlössl define a "Hideaway" as a kind of apartment without work where you experience absolute peace and find time to unwind. Already at your arrival you will feel the soothing touch of slowing down – when your pulse slows and your breathing deepens with the thoughts and daydreams, which are of substantial importance for idleness. Despite the quiet location of Bergschlössl, you profit of the ideal base for any leisure activities such as skiing, hiking, and biking or for exploring the wonderful Tyrolean holiday region around St. Anton.
Weiterlesen...
---
The Bergschlössl and its awards
Are you one of those who already as a child had the dream to live in a castle one day? In your holiday on the Arlberg this dream can come true: at Bergschlössl, the charm of a historic castle hotel, paired with friendly hospitality and high end facilities, endows you with a truly magical holiday experience.
Quietude, privacy and cordiality right in the centre of St. Anton: this is what holiday guests value at Bergschlössl. Its distinctiveness connects the hotel on the Arlberg with many other charming holiday hotels – the Historic Hotels of Europe and the Castle Hotels and Mansions, to which the Bergschlössl belongs.
Historic Hotels of Europe
Since 2002, the Bergschlössl is a proud member of the Historic Hotels of Europe. From rugged Scotland across Europe to Hungary and Sicily, countless historic buildings belong to the venerable association. Among them are castles, mansions and country houses, all of which share the fact that they can look back on an exciting past and many an interesting occurrence. As custodians of history and tradition, the hosts of these places want to introduce the guest to the typical things of their country – be it in personal encounters, with traditional dishes or customs. Service off the shelf in the style of big hotel chains does not touch the historic hotels: what counts is personal service, friendly encounters and discreet attention.
Castle Hotels and Mansions
As a founding member of the Historic Hotels of Europe, Castle Hotels and Mansions unite special guesthouses in Austria and its neighbouring countries. Each of the estates, be it a proud castle or an unobtrusive country mansion, bears its own and unique character. In these places, unforgettable family events are celebrated, harmonious holidays spent or romantic candle light dinners celebrated. Many of the castle hotels have been in the hands of families for generations and are therefore inspired by special warmth and comfort that you can feel.
Come and be a guest with the Moosbrugger family, your hosts at Bergschlössl in St. Anton on the Arlberg who carry on its unique character with love and enable a special holiday in the mountainous landscape of Tyrol.
Weiterlesen...
---
The most important customs and traditions in Tirol & Vorarlberg
Enjoy lively tradition in your holiday in St. Anton – your home away from home. Not only in your Hotel Bergschlössl, but also in the alpine region all around the Arlberg. Especially in autumn you'll experience Tyrolean and Vorarlberg's culture. But also winter offers many interesting events on the customs of the western regions of Austria.
Your Hotel Bergschlössl in St. Anton informs you about the most beautiful customs and traditions in the region for autumn and winter.
From generation to generation …
As the people of Tyrol like to say: "There is only one Tyrol". Tyrol's culture presents itself incomparable and unique with many beautiful customs that are still lived with joy by the locals. In Vorarlberg things are the same, but still very different: Though the two regions are directly adjacent the customs and even the languages can be clearly distinguished from each other.
During your holidays in St. Anton in Tyrol, you will enjoy kind of a cultural intertwining. Many of the Tyrolean old customs are still practised in almost the same way as when they originated – hundreds of years ago, as they have been passed down from generation to generation.
Discover the historical Tyrolean countryside with its majestic peaks and its hospitable inhabitants whose traditions you'll experience firsthand.
Autumn: "Almabtrieb" & harvest festival
The traditional "Almabtrieb" is among the best known and most popular traditions in the Austrian mountains. Mostly they take place in the months of September and October, when they end a relaxing summer in the mountains for animals and humans.
Cows, sheep and also horses are decorated with festive garlands and bells for the occasion of "Almabfahrt". The cattle drive is a joyous occasion for the farmers as well as the guests. Back in the valley farmers celebrate the weathered well summer on higher grounds with an "Almfest" including a farmers market and traditional live music.
Winter: "Moa", "Perchten", Santa Claus & "Christ Child"
Moa & Halloween in Vorarlberg
Vorarlberg's tradition of "Moa" is very similar to the American Halloween tradition. Also here, people carve faces into pumpkins, which should look like the face of the moon. Therefore the finished artwork is called "moo". Also here, the local children go from house to house and ask for candy in exchange for singing a song or reciting a poem. But there is no trick or treat. For some time now, this typical Vorarlberg custom is giving way to the classic Halloween we know from America.
Krampus & Santa Claus
Noisy and odorous "Perchten" and "Krampus" break the otherwise more silent pre-Christmas season. A "Krampus" is a scary figure with centuries of tradition in western Austria. In his role he resembles the Bogeyman. Boys from the village dress up for St. Nicholas Day with fur suits, wearing elaborately carved wood masks with most fearsome real horns.
Their devilish walk through the streets with loud bells on the backs and a rod in their hands is frightening for children and adults too. Luckily lovely Nikolo is with them to bestow the "good" children with little presents such as chocolate and nuts. The "naughty" kids on the other hand have to endure some gentle strokes by a Krampus' rod to be reminded to listen to their parents and teachers.
"Rauhnacht"
In twelve traditional nights around Christmas, called "Rauhnacht", people traditionally smoke their house and barn. The origins of this tradition lie in some ancient pagan rituals. The family goes through the premises with incense while praying the Our Father or a rosary. In this way, the home, the barn and the cattle is freed from evil spirits and is being blessed in the coming year. Among other days, people also smoke their houses on Christmas Day.
Christmas
On Christmas Eve Christ Child is coming to Tyrol and Vorarlberg. The girl with the gold curly hair is considered a symbol for Christmas in these regions. On the evening of December 24 Christ Child puts the presents under the festively decorated Christmas tree. But before that, a traditional mostly vegetarian Christmas dinner is served and people pray together. After handing out the presents the village community meets for the Holy Midnight Mass in the respective parish.
Weiterlesen...
---
The Biker's Summer in the Austrian Alps Has Arrived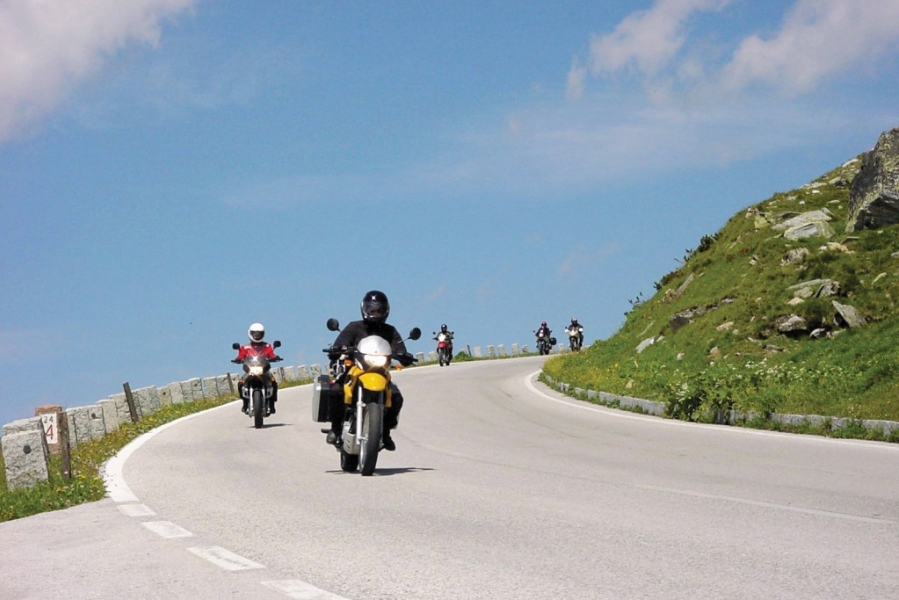 Is there a more beautiful starting point for motorcycling tours than the Arlberg? Switchbacks, switchbacks and more switchbacks, reservoirs, great altitudes and all surrounded by the breathtaking mountain landscapes … everyone who was lucky enough to once drive a motorcycle here will definitely come back on the Arlberg and its surrounding regions. We have some suggestions and appetisers for you:
Weiterlesen...
---
Hiking on the Arlberg – St. Anton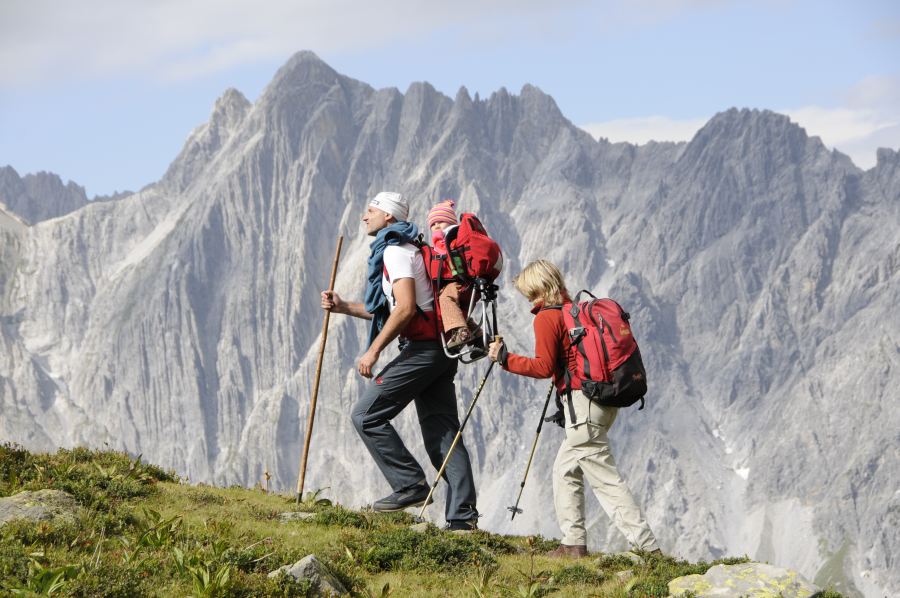 From lush meadows in the Stanzer Tal valley up to rugged mountain formations on the Arlberg Massif, the range couldn't be more diverse: enjoy hiking in St. Anton and discover something new every day. Maybe you will even discover something new about yourself – after all, hiking is not only beneficial for your body, but also good for your soul.
Weiterlesen...
---
Jumps, Slides, Shreds: one of the Alps' Best Fun Parks
2,000 metres above all things and with an impressive scenery – that is how Stanton Park presents itself, a pure dream for boarders and tricksters. By now this fun park is already well known not only in Austria but internationally. And whoever has been here knows exactly why.
Weiterlesen...
---
A Break from the Skis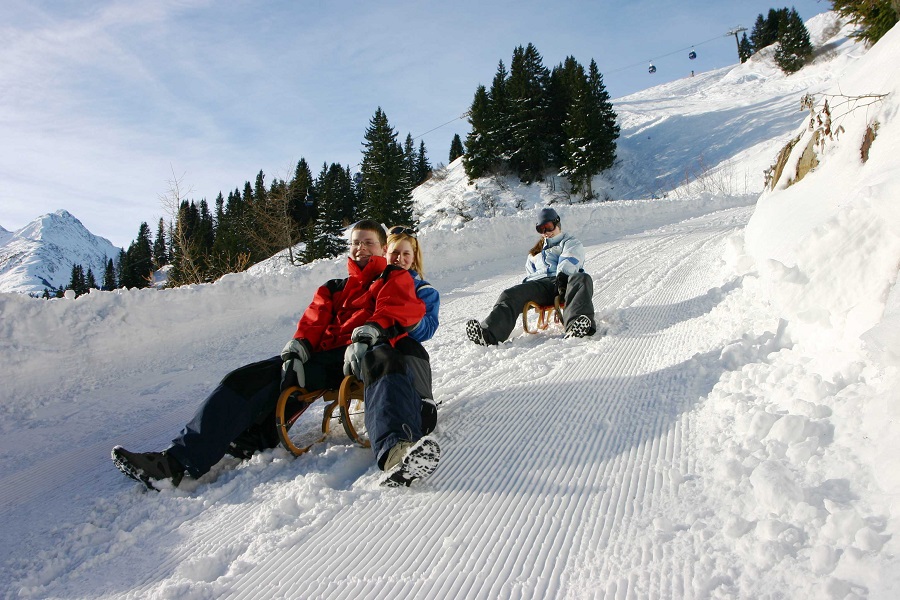 As beautiful and big the Arlberg ski resort may be: sometimes the body needs a bit of a break. From spa to cross-country skiing, there is so much more to do. Here are some alternatives to skiing in St. Anton.
Weiterlesen...
---
Hard to Beat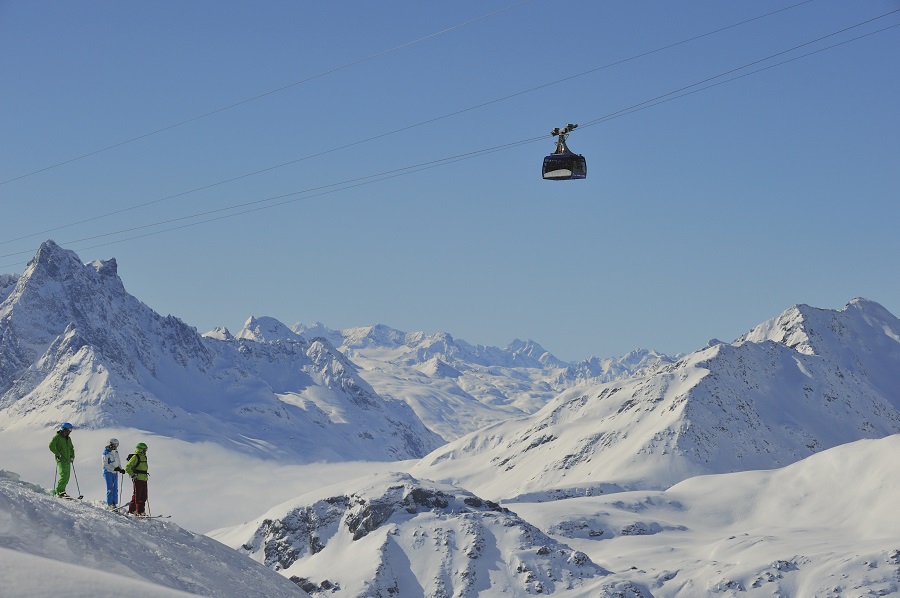 Amongst all the ski resorts that the Austrian Alps have to offer, there is one that stands out again and again. Be it its history, its sportive background, the party culture, the winter sports development or even its geography: there is no way around the Arlberg.
Weiterlesen...
---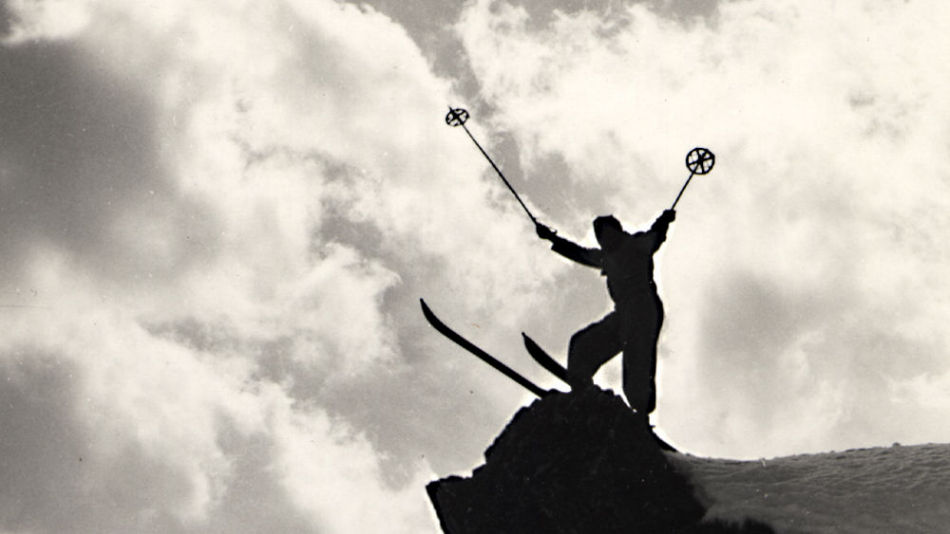 In the 30s, around 80 years ago, one Arnold Fanck shot several films that were about to change quite a lot. His spectacular ski scenes, especially in the classic film "Der Weiße Rausch" ("The White Ecstasy") had a great impact on ski sports and went viral even beyond the Alps.
Weiterlesen...
---
Skiing and Après-ski in St. Anton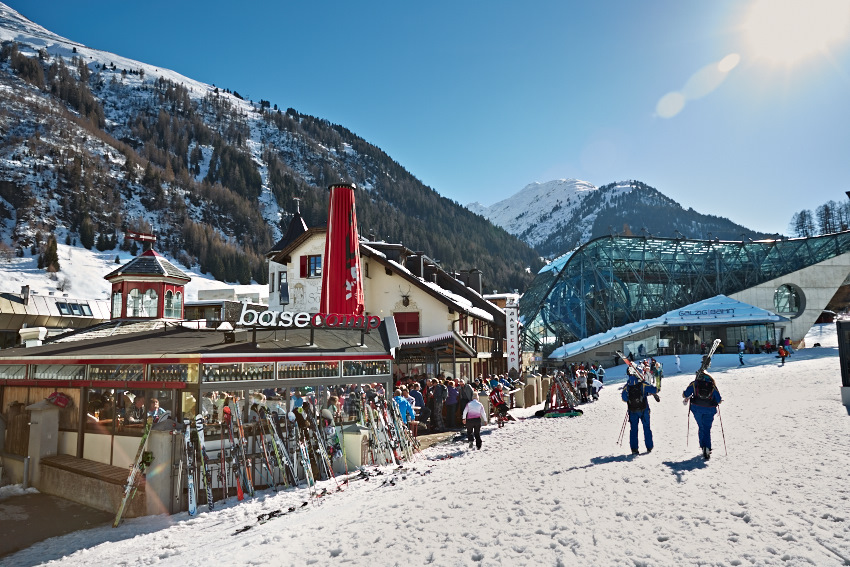 Sounds like the perfect combination? Well, it is. And it couldn't be more convenient to get from Bergschlössl in St. Anton to the pistes in the morning, you will find all the cable cars right in front of the hotel. Once arrived in the ski resort you are spoilt for choice when it comes to ski runs. You won't have to ski down one and the same piste twice. And in the evening you can ski right in front of the Basecamp après-ski bar or the hotel.
Weiterlesen...
---
200 Kilometres of Untouched Slopes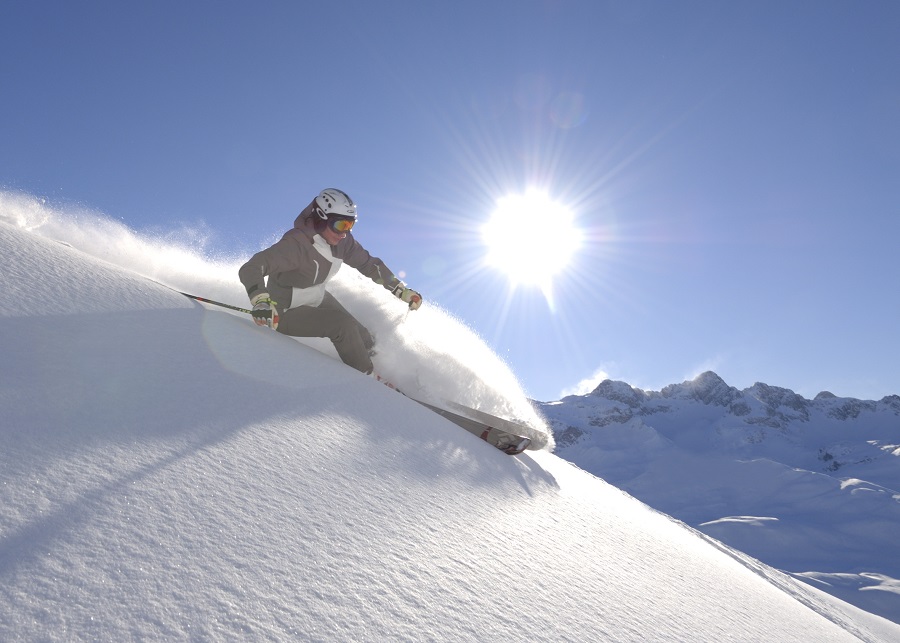 Arlberg mountain is Austria's centre of free riding with almost 200 untouched kilometres. The prepared pistes are not as crowded as in other ski resorts, but many skiers are still keen on experiencing the unspoilt areas. For many powder snow skiing is without a doubt the most beautiful form of alpine sports.
Weiterlesen...
---
Mountain, Pass, Rock?
It is hard to find the right word to describe the Arlberg. Whoever says "Arlberg" these days means the whole region around Lech, Zürs, St. Christoph and St. Anton. The Arlberg pass itself is a mountain pass road that exceeds its highest spot at 1,793m close to St. Christoph. So in this sense the "Arlberg" is a mountain massif with the Valluga as its highest mountain with 2,809 metres. By the way: the most western county is called Vorarlberg because it was populated from the Swiss region in the west and coming from there Vorarlberg is located BEFORE the Arlberg – Vor-Arlberg, with "vor" being the German word for "before".
Weiterlesen...
---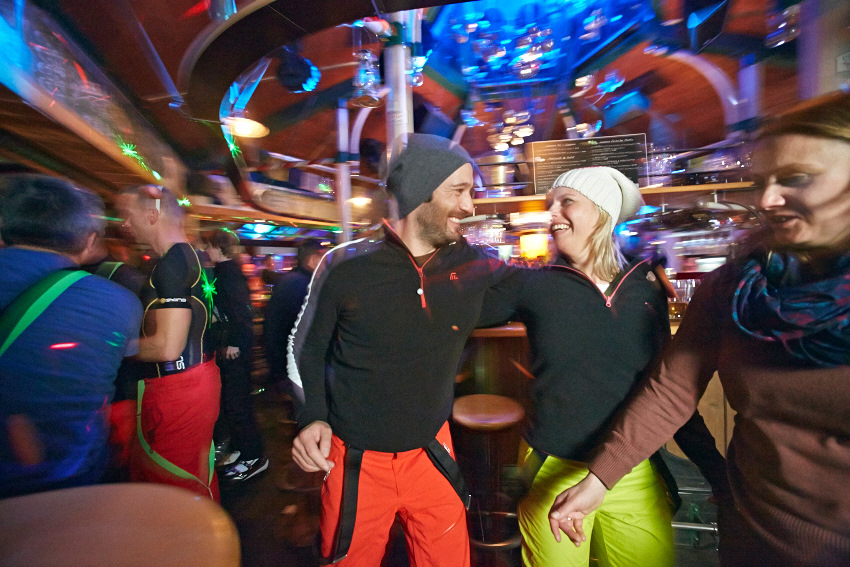 Some take off their skis and enjoy an invigorating meal, some indulge in the first bubbly of the day, others dance themselves warm with great music and others again party extensively deep into the night: après-ski has many faces. In St. Anton you will find all of them and will be spoilt for choice.
Weiterlesen...
---
Après-ski on the Arlberg, Just Like in the Old Times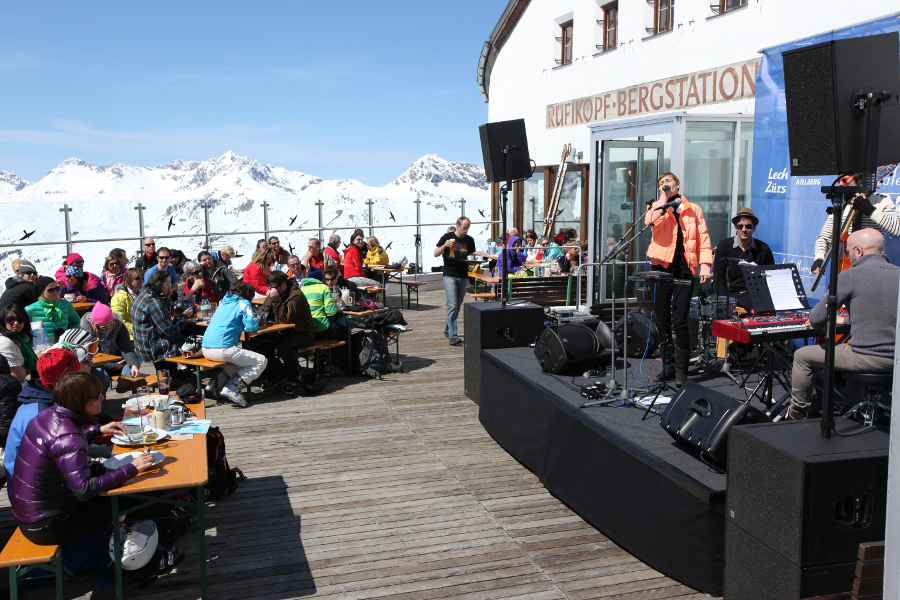 It was only 2 winters ago that this long overdue series of events was initiated: Tanzcafé Arlberg brings vintage après-ski atmosphere on the sun terraces at the end of the winter season which is the most beautiful time for sun skiing. Visit Lech and Oberlech and look forward to jazz, swing, rock and interesting musicians. From 30
th
March to 13
th
April Tanzcafé Arlberg will take place for the third time and guests as well as locals appreciate this kind of après-ski in the early afternoon.
Weiterlesen...
---
One of the World's Toughest Ski Races
A spectacular mass start on more than 2,600 metres above sea level and only moments later wildly gasping creatures that fight their way over the finish line, where they instantly have to sit down all exhausted: Some participants call "Der Weiße Rausch" ("The White Ecstasy") the "world's toughest mass start race" for a reason. It will take place again on April 19th.
Weiterlesen...
---