Motorcycling Tours from St. Anton
The Biker's Summer in the Austrian Alps Has Arrived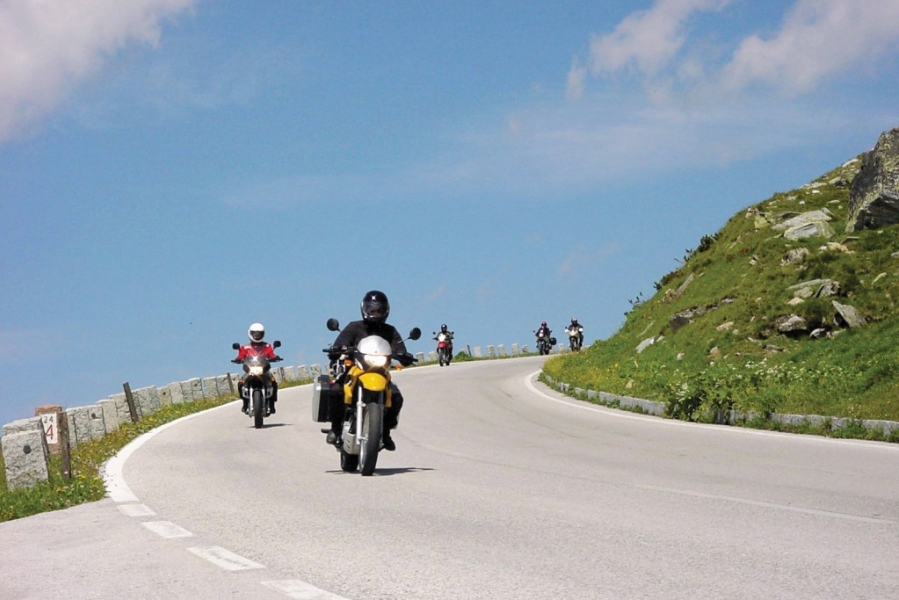 Is there a more beautiful starting point for motorcycling tours than the Arlberg? Switchbacks, switchbacks and more switchbacks, reservoirs, great altitudes and all surrounded by the breathtaking mountain landscapes … everyone who was lucky enough to once drive a motorcycle here will definitely come back on the Arlberg and its surrounding regions. We have some suggestions and appetisers for you:
St. Anton is located just about on the Tyrolean side of the Arlberg and therefore perfect for motorcyclists: Austria as well as Germany, Italy, Switzerland and Liechtenstein are all within one hour.
Over the Arlberg into Bregenz Forest
The Bregenz Forest on the other side of the Arlberg provides yet another beautiful Austrian region that you should not miss out on. On this 180km tour over Arlberg's high mountain range you will find gorgeous, lush landscapes full of forests, hills, smaller mountains and full colours.
For this tour just follow the Arlbergstraße road (not the tunnel) and after a few kilometres take a turn to Lechtal-Straße in direction of Lech/Zürs. Around Flexenpass mountain pass some of Austria's most beautiful nature highlights are waiting for you. From Lech follow the road up over Lech mountain to Warth and further to Schröcken and Au. Here you can either take a longer tour via Bezau, Egg and Dornbirn, or a shorter one via Damüls and the Große Walsertal. Once arrived in Bludenz, come down the stretch to St. Anton via the Arlberg.
Reservoirs and Switchbacks – Montafon and Paznaun
This spectacular mountain pass road wasn't really planned: a huge digger was left up there after the reservoirs in the Silvretta area were built. This pass was then constructed in  order to get the digger from the reservoirs to the Montafon. Good for all the bikers, because with 3 reservoirs, 34 bends and the rough beauty of the Silvretta mountains the Silvretta High Alpine Road is a rewarding experience every time you get up there. The toll road is open from May to October.
Because 32 of the 34 bends are on the Vorarlberg side, you should decide for yourself if you want to enjoy the curves uphill or downhill. The road itself starts either with a ride on Arlberg Schnellstraße clearway towards east until you get to the exit Ischgl/Kappl/See/Galtür or with a drive over or through the Arlberg to Bludenz. Once you arrived there go south to the beautiful Montafon.
Further tour recommendations will be available here shortly. Amongst others the longer 3-country tour to beautiful South Tyrol and Switzerland.
Perfect for Motorcycling Groups
Bergschlössl in St. Anton is the perfect starting point for motorcycling tours through Tyrol, Vorarlberg and the neighbouring regions; it offers underground parking and is perfectly designed for groups. We will gladly give you further, individual tour tips in person at the hotel.