Tanzcafé Arlberg in Lech and Oberlech
Après-ski on the Arlberg, Just Like in the Old Times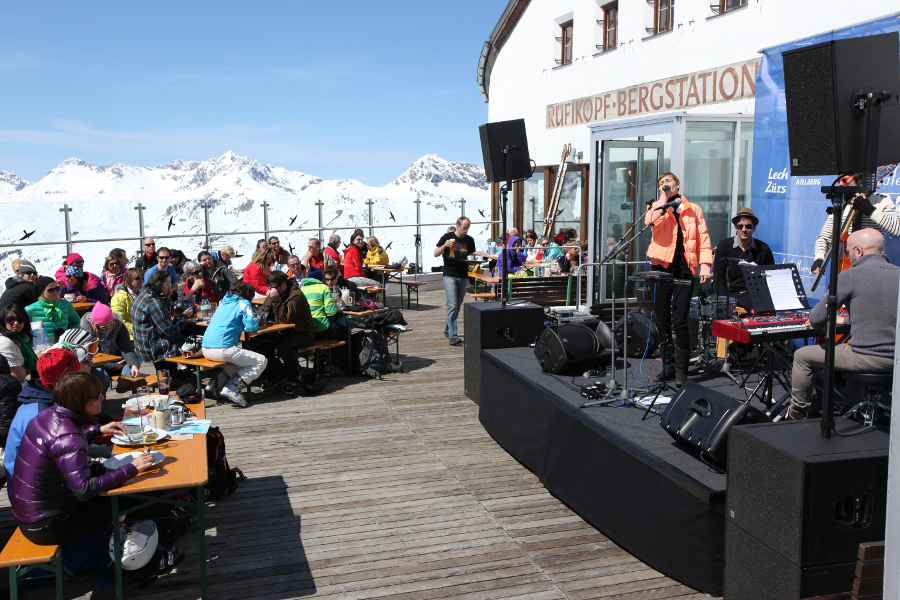 It was only 2 winters ago that this long overdue series of events was initiated: Tanzcafé Arlberg brings vintage après-ski atmosphere on the sun terraces at the end of the winter season which is the most beautiful time for sun skiing. Visit Lech and Oberlech and look forward to jazz, swing, rock and interesting musicians.
From 30th March to 13th April Tanzcafé Arlberg will take place for the third time and guests as well as locals appreciate this kind of après-ski in the early afternoon.
16 Acts in 2 Weeks
Austrian and international acts create an incredible atmosphere on Rüfiplatz Square in Lech's centre and on the sun terraces at more than 10 hotels and alpine huts in Lech, Oberlech and Zug. Don't miss out on the musical cabaret by the Viennese band 5/8erl in Ehr'n, the Dutch jazz songwriter Wouter Hamel or the soul-funk singer Stella Jones from Berlin.
5/8erl in Ehr'n
Louie Austen
5 in Love
Stella Jones
Freddy Poppins
Danny & The Bad Rats
Ben Galliers
Yamil Borges
Wouter Hamel
Trio Gare Du Nord
Herr Tischbein
Telmo Pires
Roos Jonker
Elliott Adonis Lottie und der Glückliche
Benny Sings
Joja Wendt
The daily concerts start in the early afternoon, many acts play more than just once during Tanzcafé Arlberg. Your ski day on the other hand is all relaxed: enjoy sun and snow to the fullest, change your skis for the sun terrace when you feel like it and enjoy the music with a cold beverage and a delicious snack.
How to Get to Lech:
If you arrive on your skis just take the ski run to Valfagehrbahn, from there take the ski bus to Lech. Ski bus rides are free for ski pass holders. Local busses run directly from St. Anton to Lech.
Back to St. Anton
Should you fancy some more music, homemade pasta and cosy atmosphere after this gorgeous day of sun skiing and swinging après-ski, visit Basecamp where there is still more to come: directly at the Gampenbahn and Galzigbahn valley station.